As the coronavirus crisis intensifies, with over 174,000 diagnosed cases and almost 6,700 deaths worldwide (16 March 2020, 15:30 GMT), Panos photographers from Taiwan to Oslo and Warsaw to Prague have been documenting the effect of the pandemic on daily life in their parts of the world.
Below is a selection of images from Cambodia, Czech Republic, Japan, Poland, Switzerland (the seat of the WHO), Taiwan, the United Kingdom and Belgium (where research into a vaccine against the virus is being carried out).
To view a full set of images, please click here.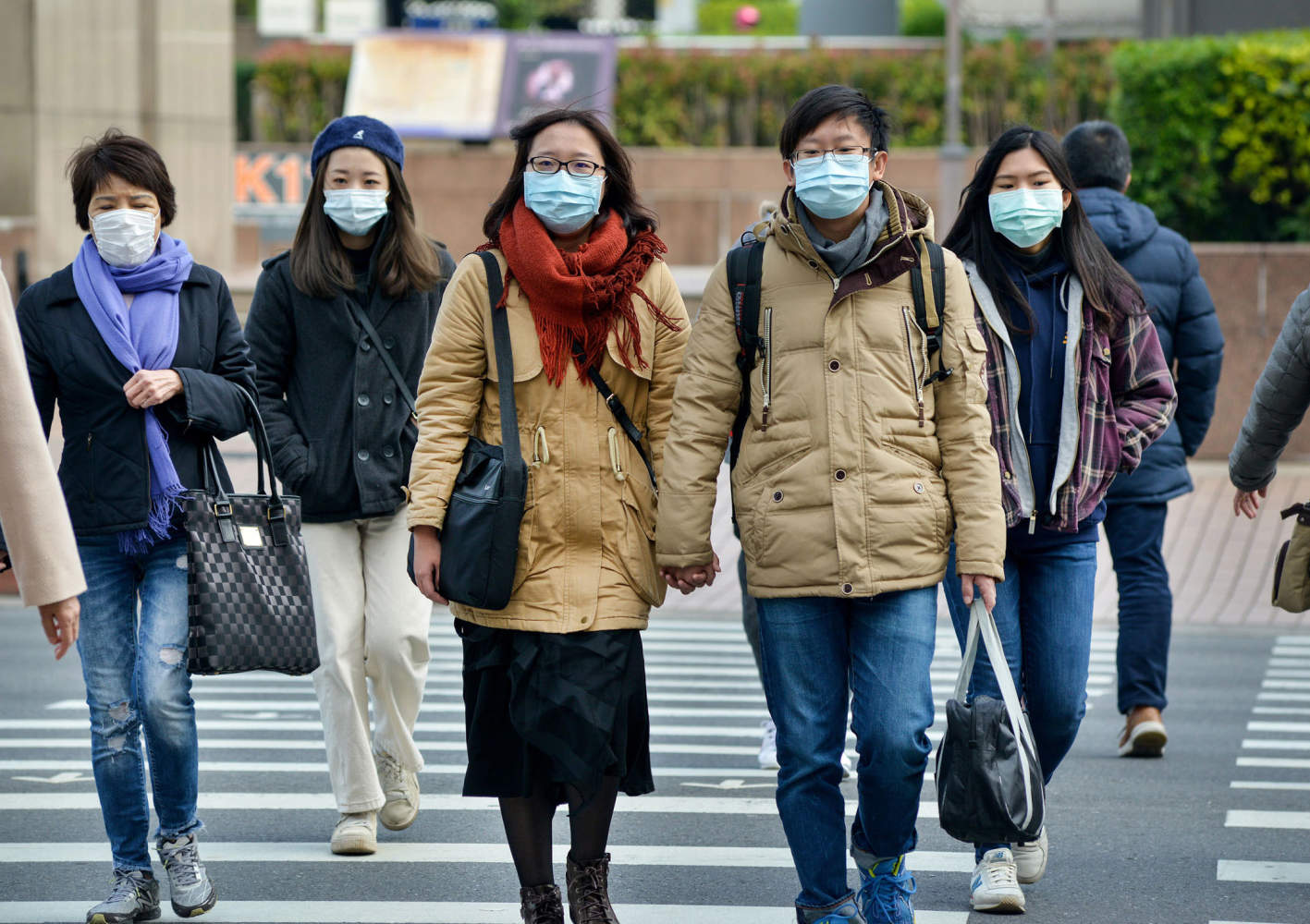 Members of the public wearing face masks to protect themselves from the possibility of catching coronavirus. Taipei, Taiwan. © Chris Stowers/Panos Pictures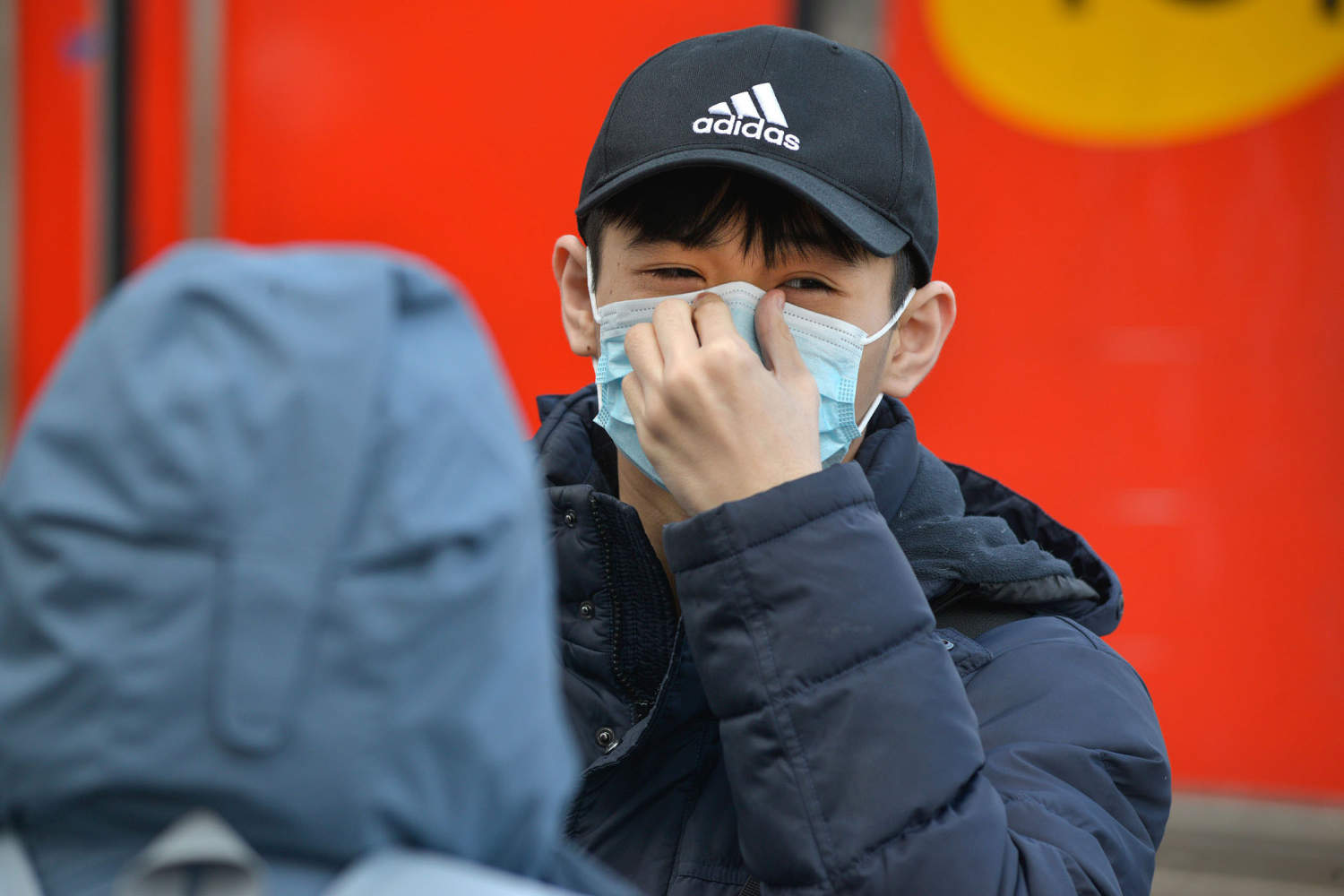 A member of the public adjusts his face mask, worn to protect against the possibility of catching coronavirus. Taipei, Taiwan. © Chris Stowers/Panos Pictures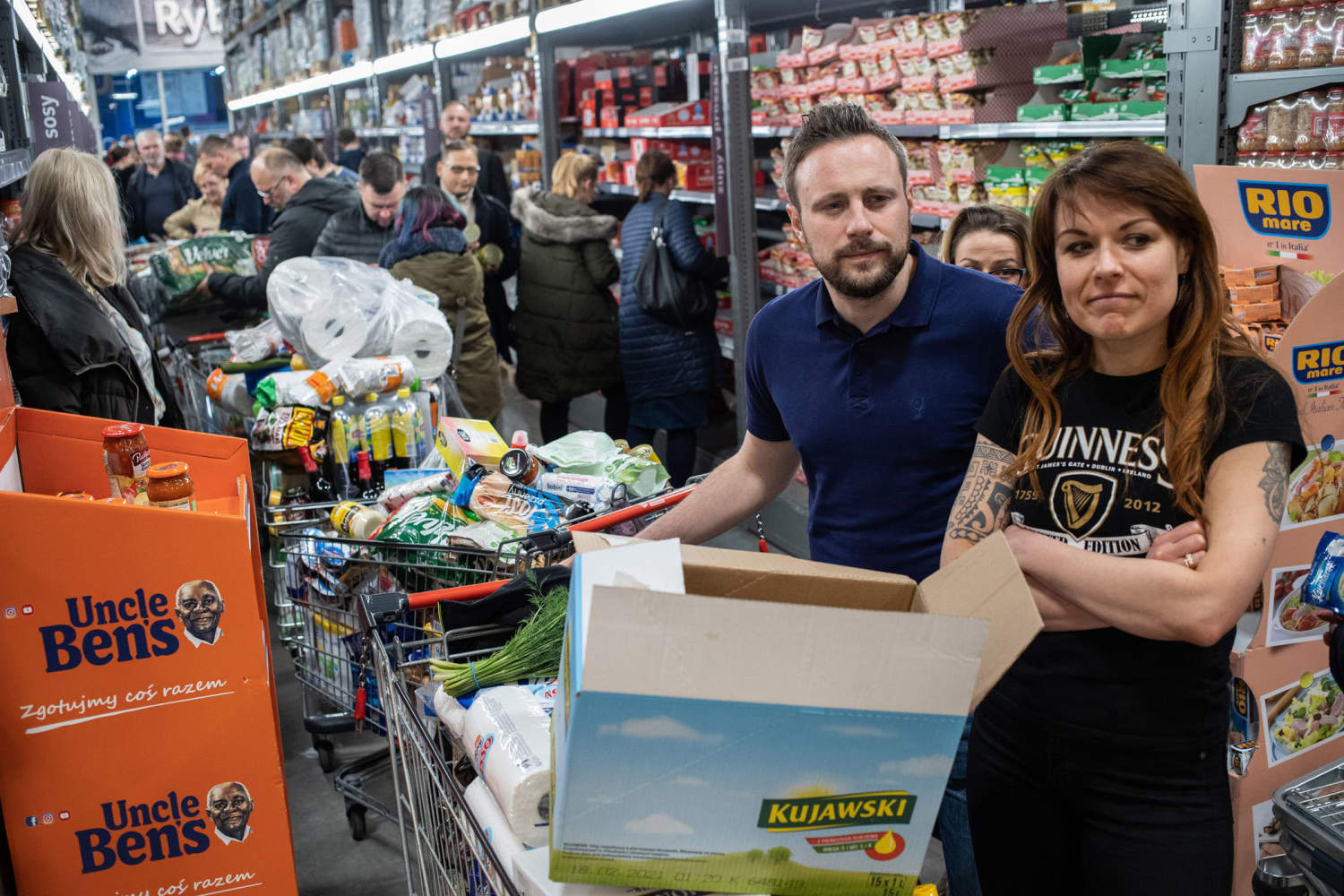 People queue with loaded supermarket trolleys, waiting to chek out, at a Selgros supermarket. Warsaw, Poland © Piotr Malecki/Panos Pictures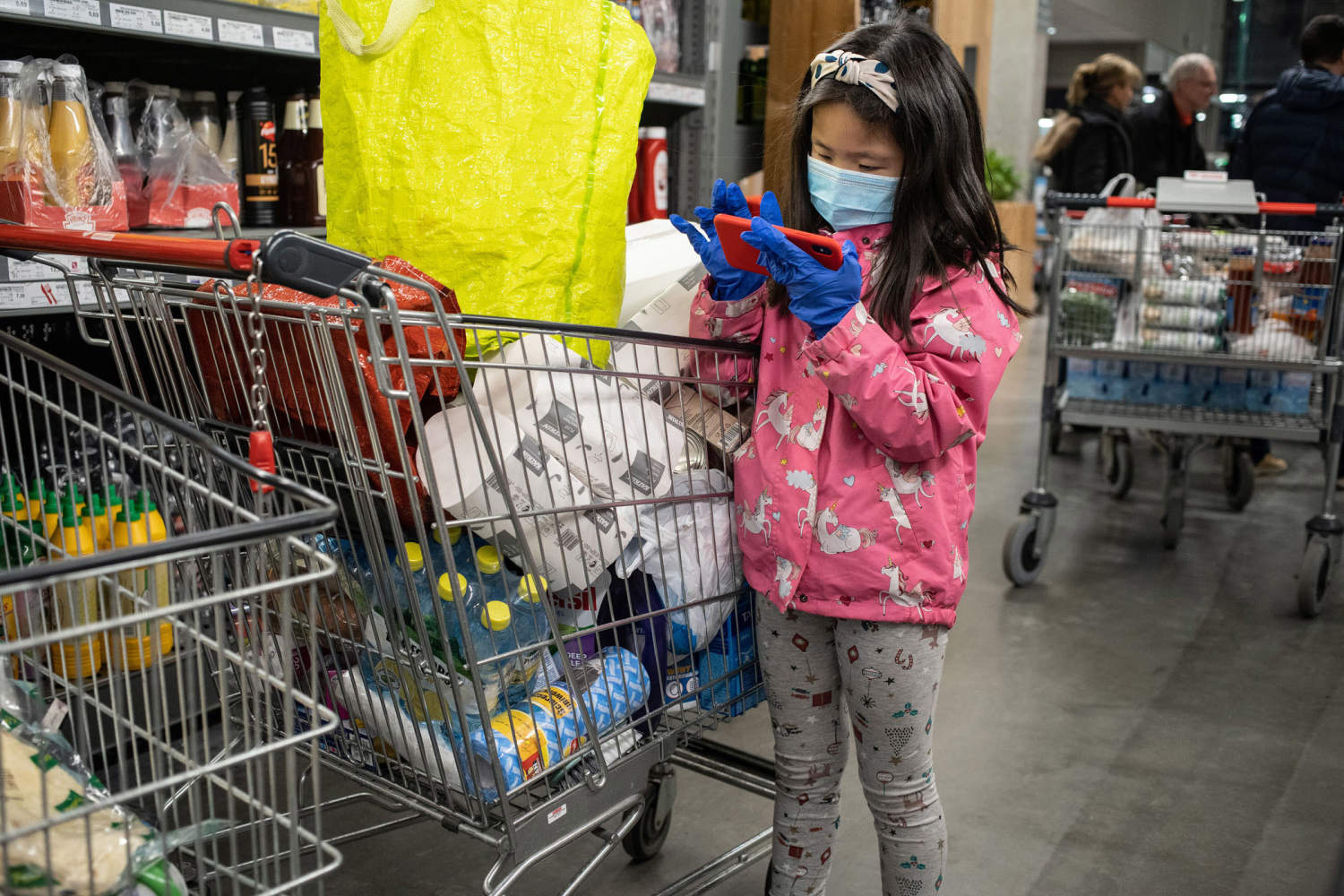 A girl stands next to a fully loaded supermarket trolley, looking at a mobile phone and wearing a face mask, at a Selgros supermarket. Warsaw, Poland © Piotr Malecki/Panos Pictures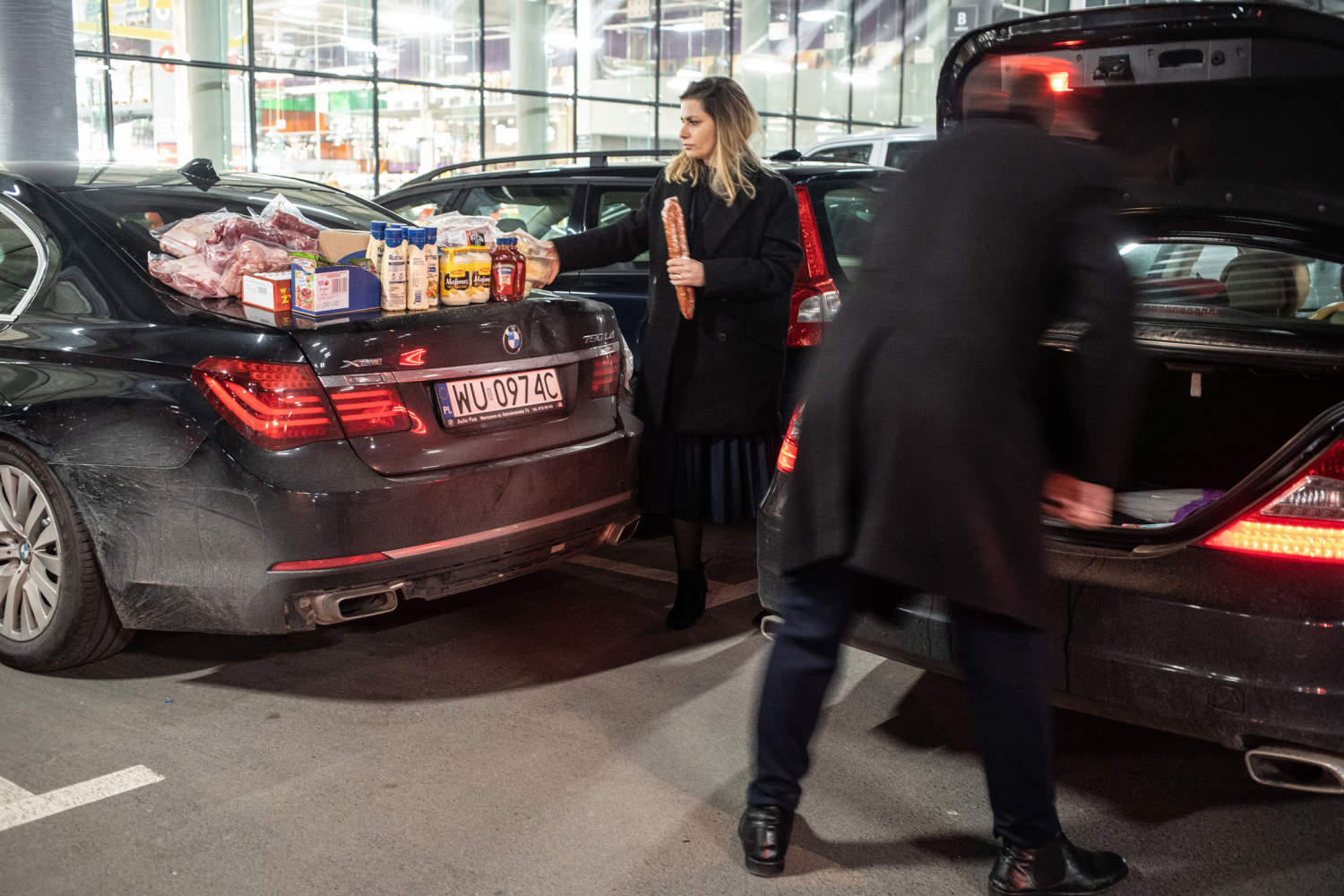 People load up their cars with large amounts of shopping in the car park of a Selgros supermarket. Warsaw, Poland © Piotr Malecki/Panos Pictures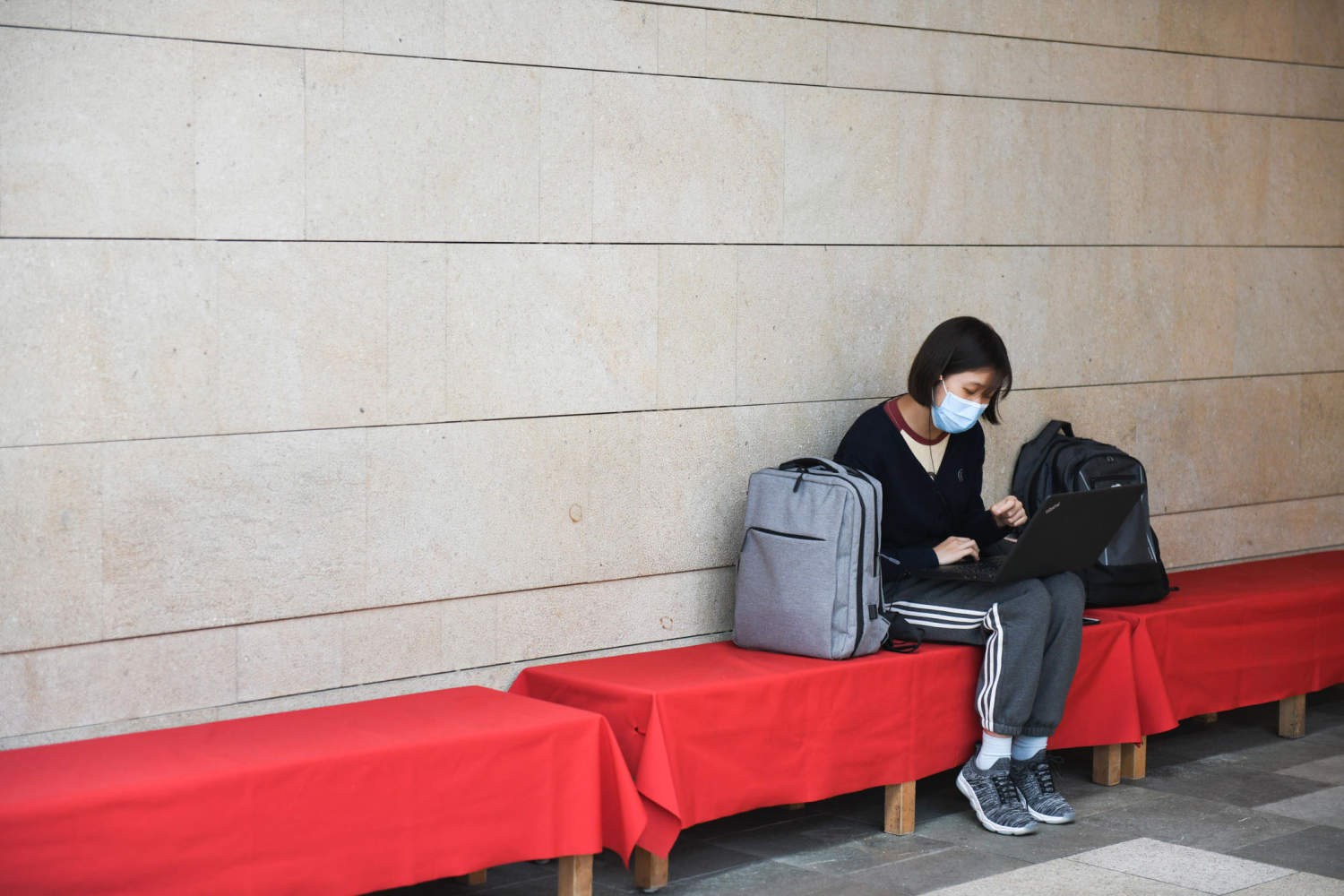 A traveller on her laptop wears a protective mask at Haneda airport in Tokyo to reduce the risk of catching the corona virus. © Noriko Hayashi/Panos Pictures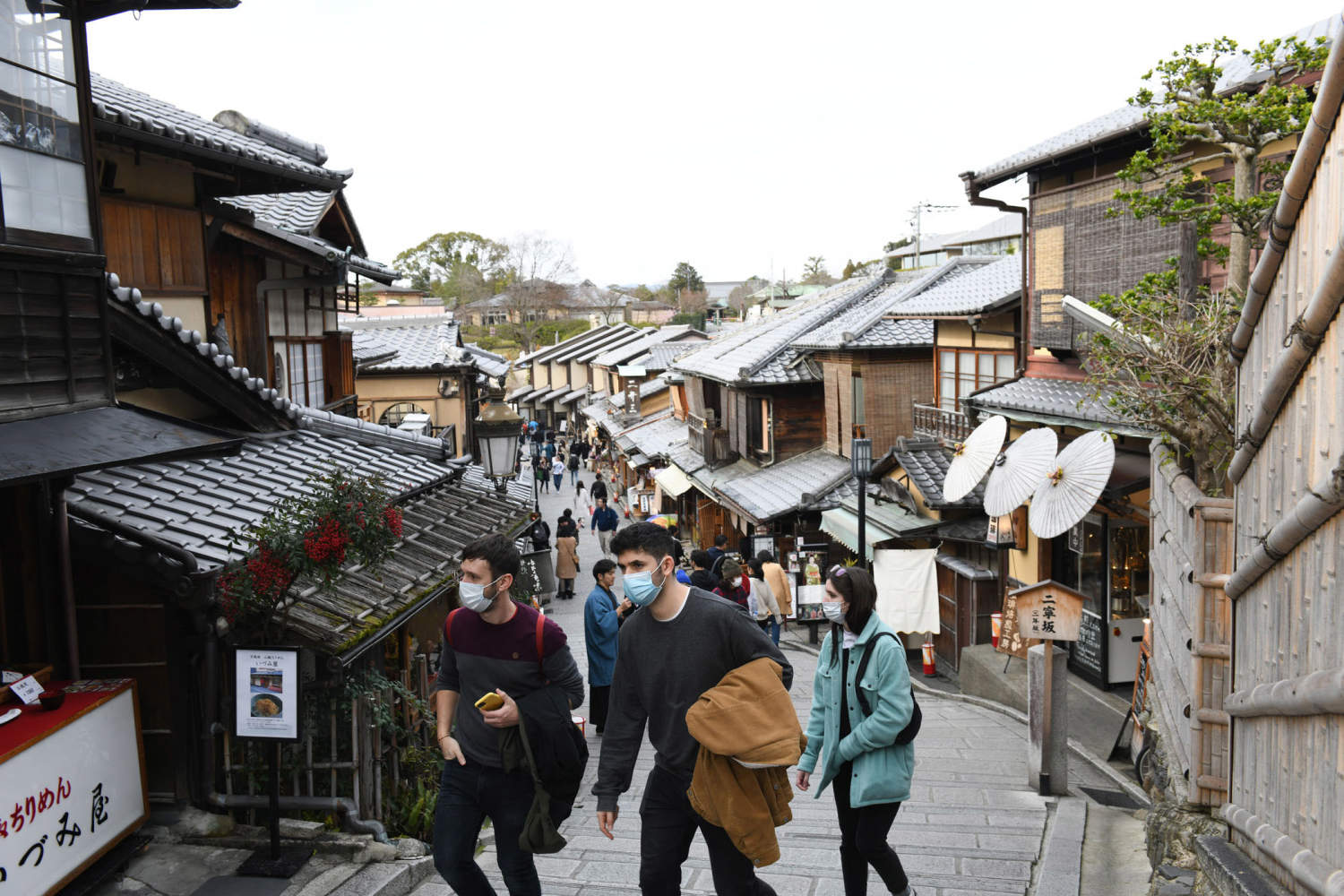 Tourists wear protective face masks in Kyoto to reduce the risk of infection with the corona virus. © Noriko Hayashi/Panos Pictures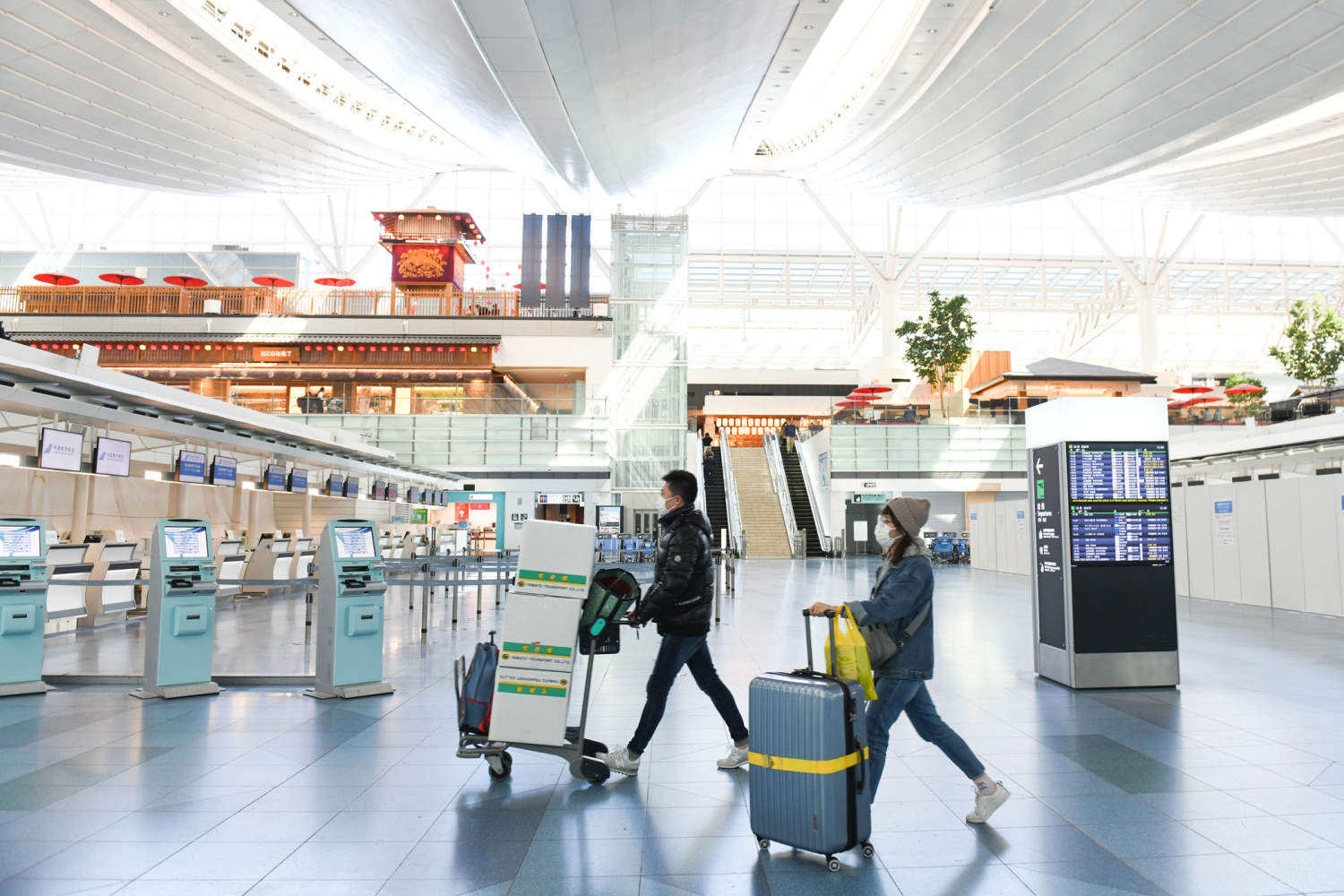 Travelers wear protective masks at Haneda airport in Tokyo to reduce the risk of catching the corona virus. © Noriko Hayashi/Panos Pictures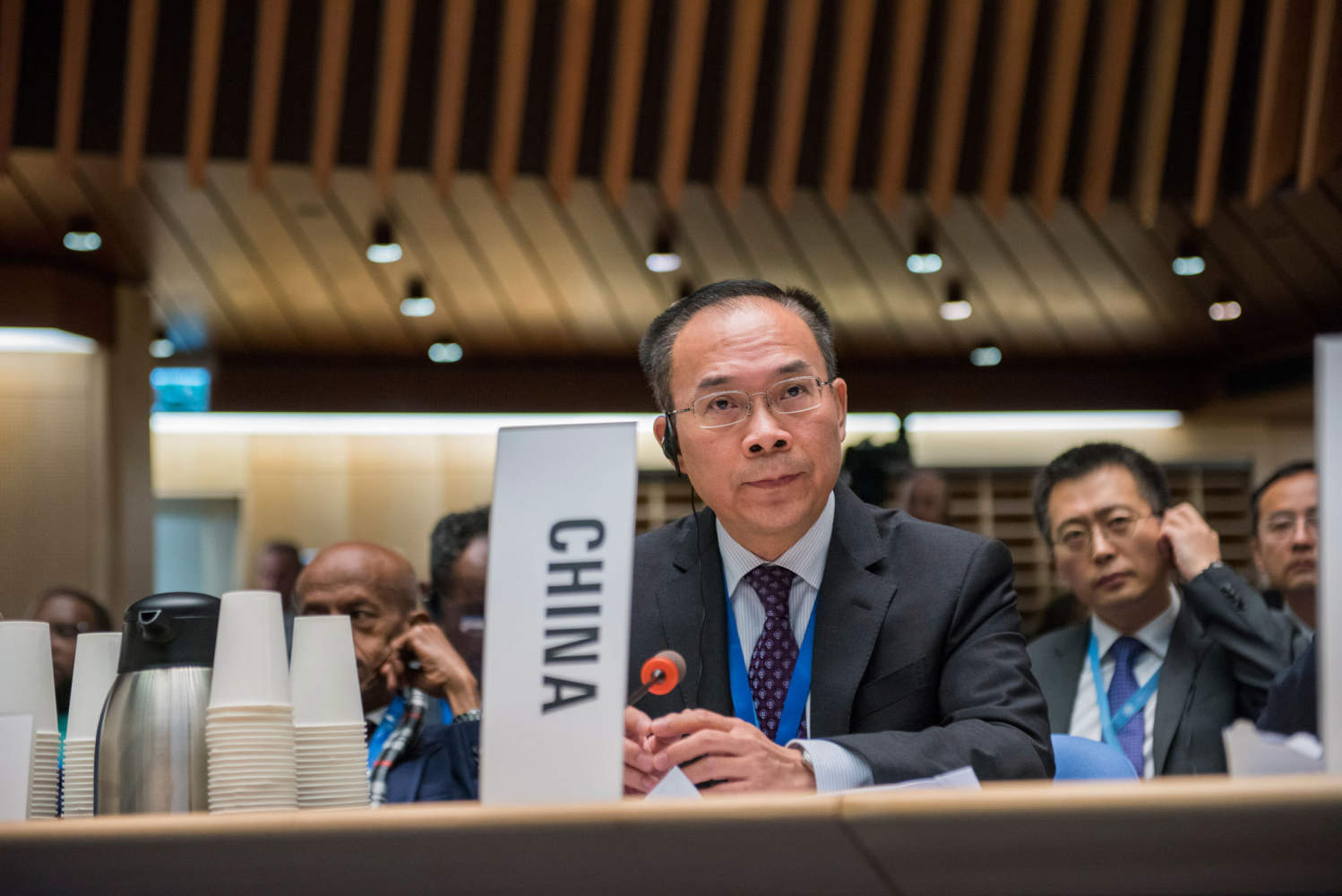 Chinese official waiting to speak at the opening session of the Executive Board Meeting of the World Health Organisation, the UN's health body, at the organisation's headquarters in Geneva. © Mark Henley/Panos Pictures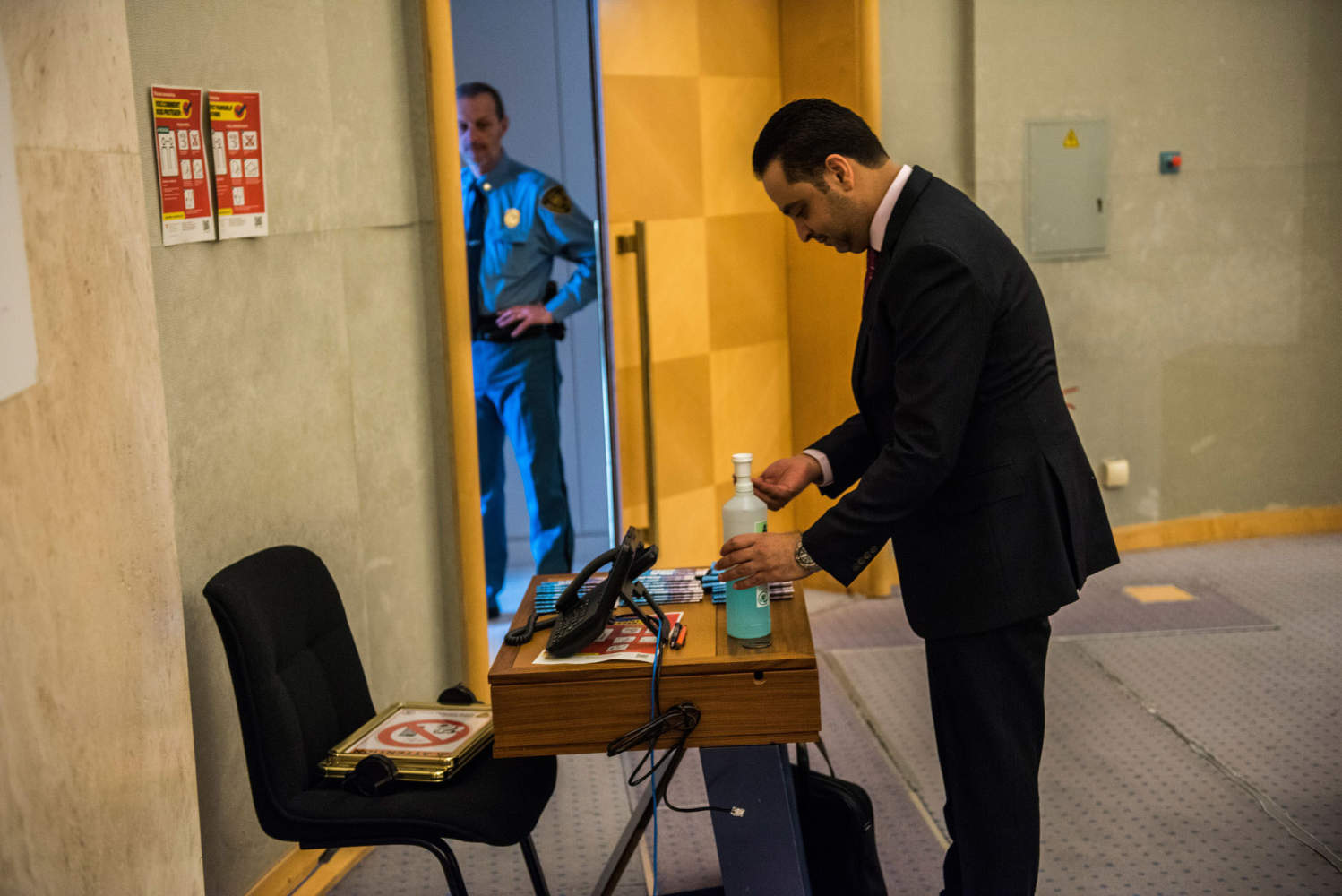 Diplomat cleaning his hands at the United Nations Human Rights Council, on the day it was announced that the council will abandon its present session due to the Coronavirus, following on from the announcement of a pandemic by the World Health Organization. Geneva, Switzerland © Mark Henley/Panos Pictures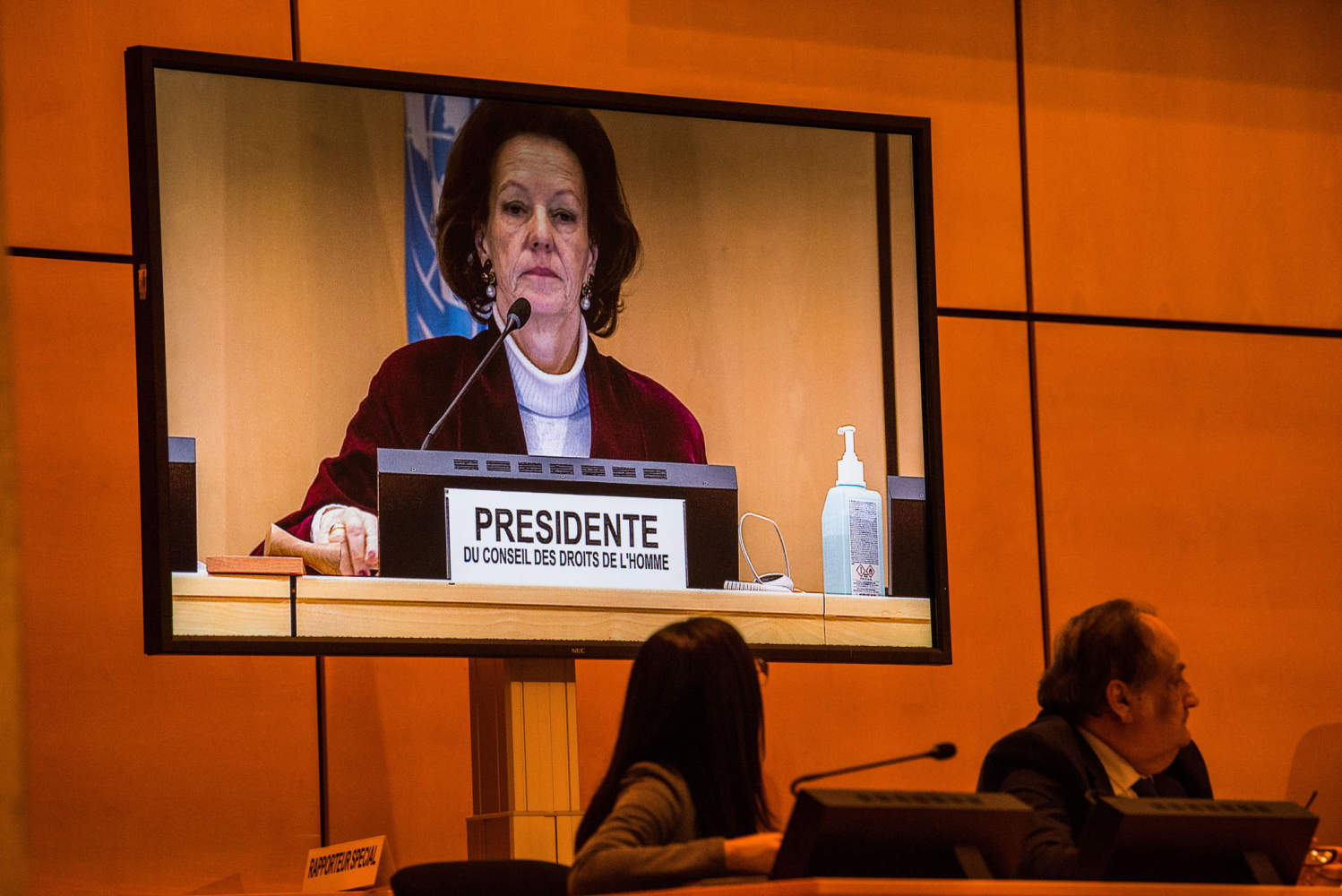 President of the UN Human Rights Council, the Austrian Ambassador Elisabeth Tichy-Fisslberger addressing the United Nations Human Rights Council whihc has announced that it will stop its present session due to the Coronavirus, following on from the announcement of a pandemic by the World Health Organization. Geneva, Switzerland © Mark Henley/Panos Pictures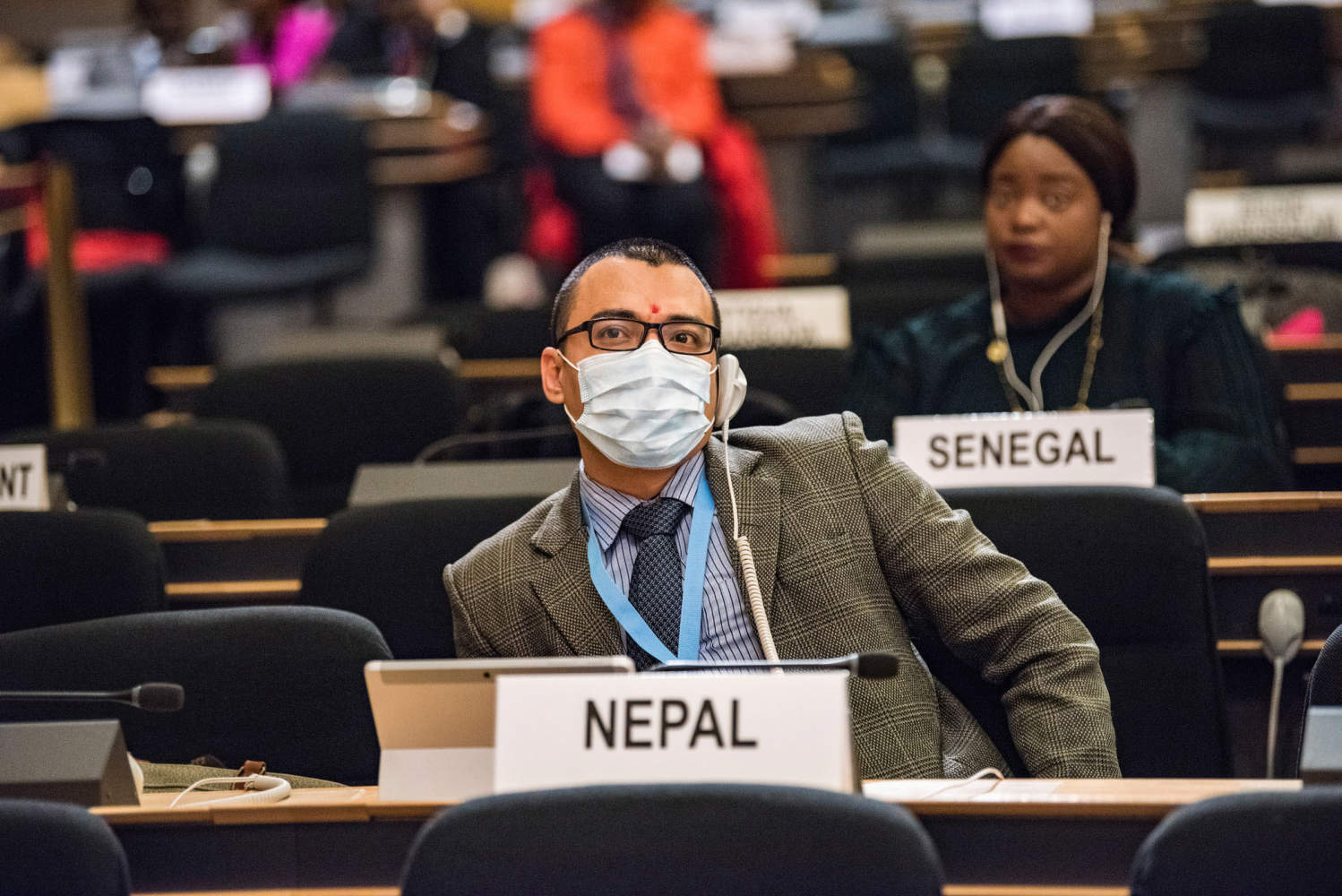 Diplomat representing Nepal wearing a mask at the United Nations Human Rights Council. It was announced that the council will abandon its present session due to the Coronavirus, following on from the announcement of a pandemic by the World Health Organization. Geneva, Switzerland © Mark Henley/Panos Pictures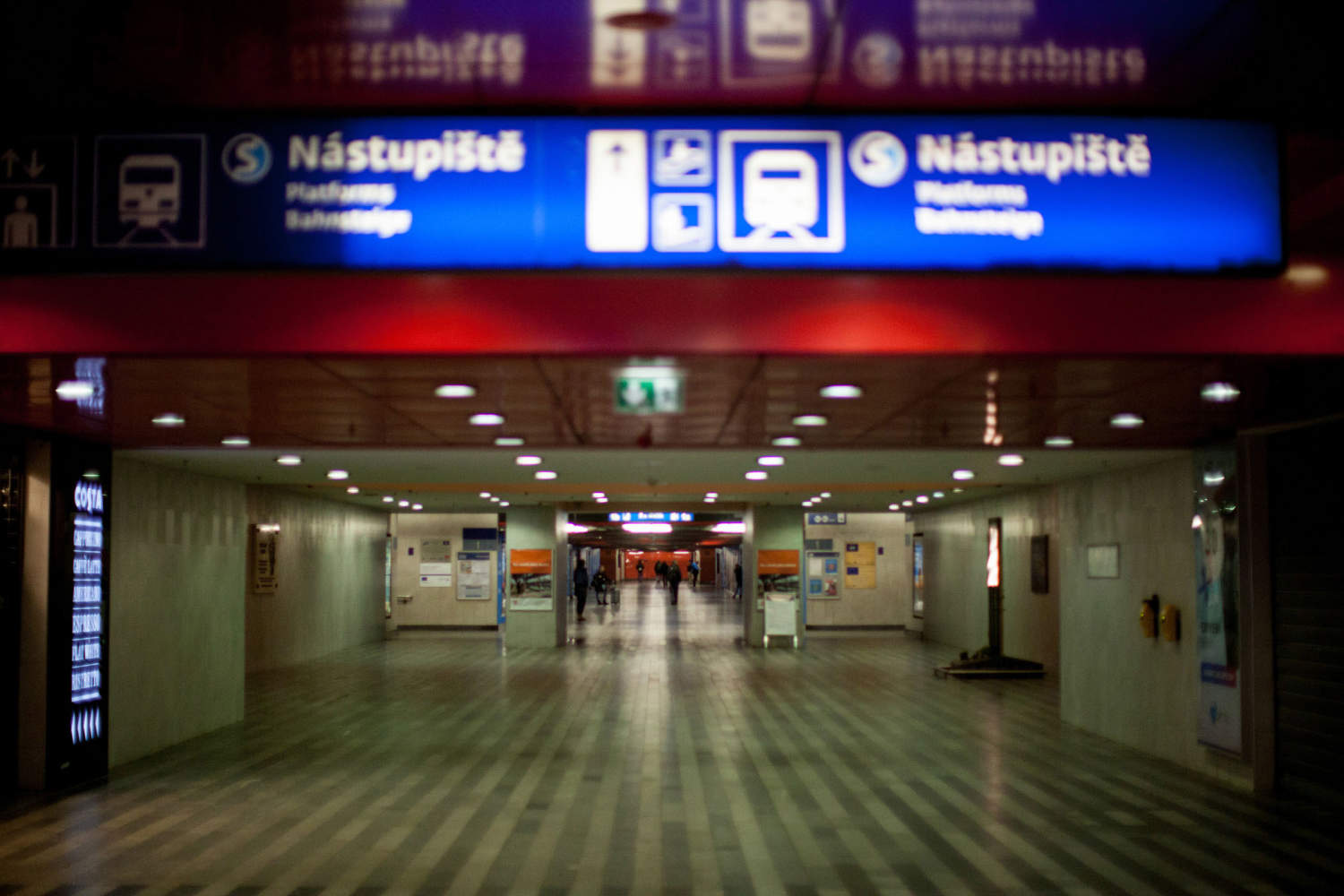 An empty walkway in Prague's main railway station (Hlavni Nadrazi). Passenger numbers are noticeably down due to the corona virus outbreak. © Björn Steinz/Panos Pictures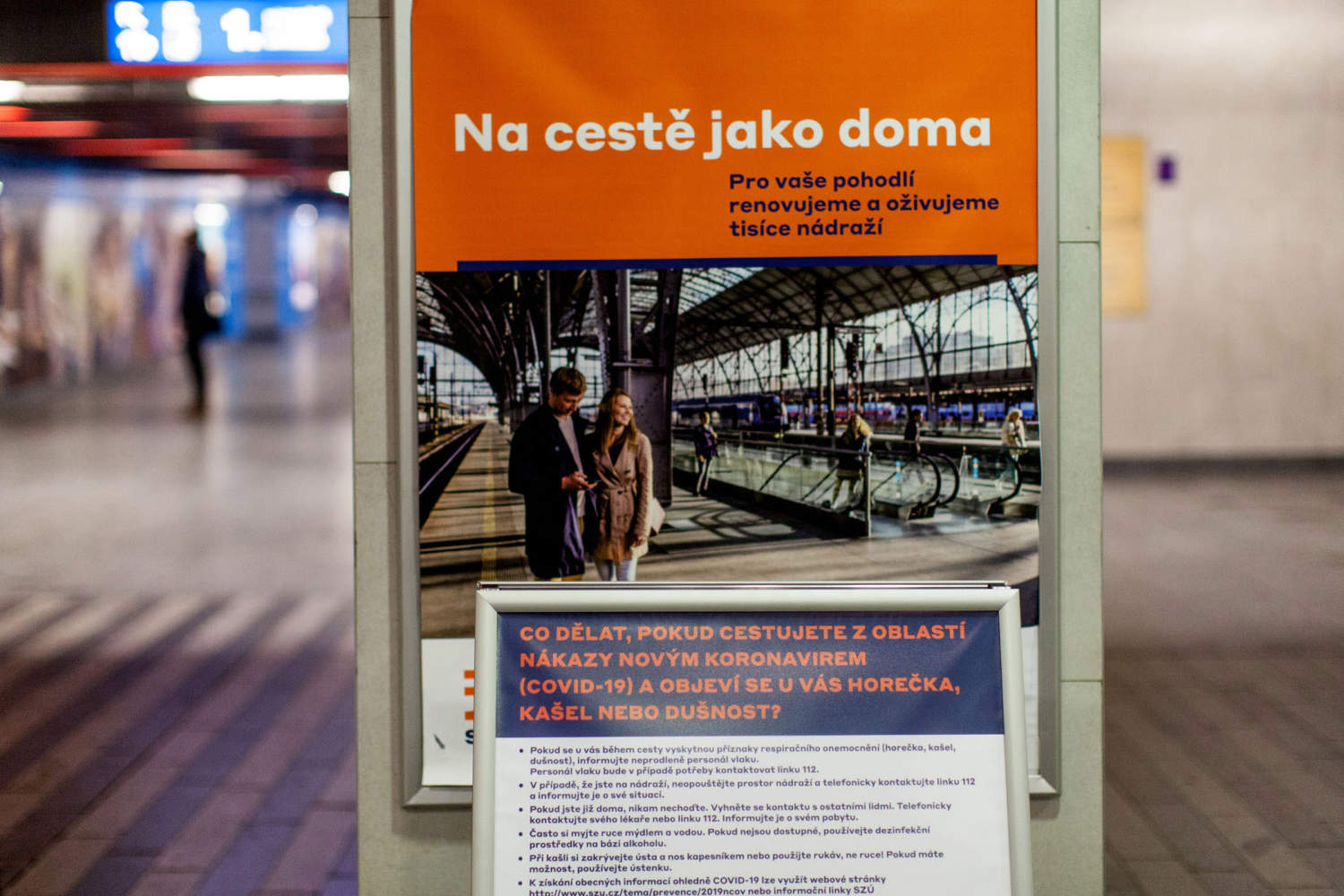 An information board at Prague Main Railway Station (Hlavni Nadrazi) with instructions on how to behave in view of the corona virus outbreak. © Björn Steinz/Panos Pictures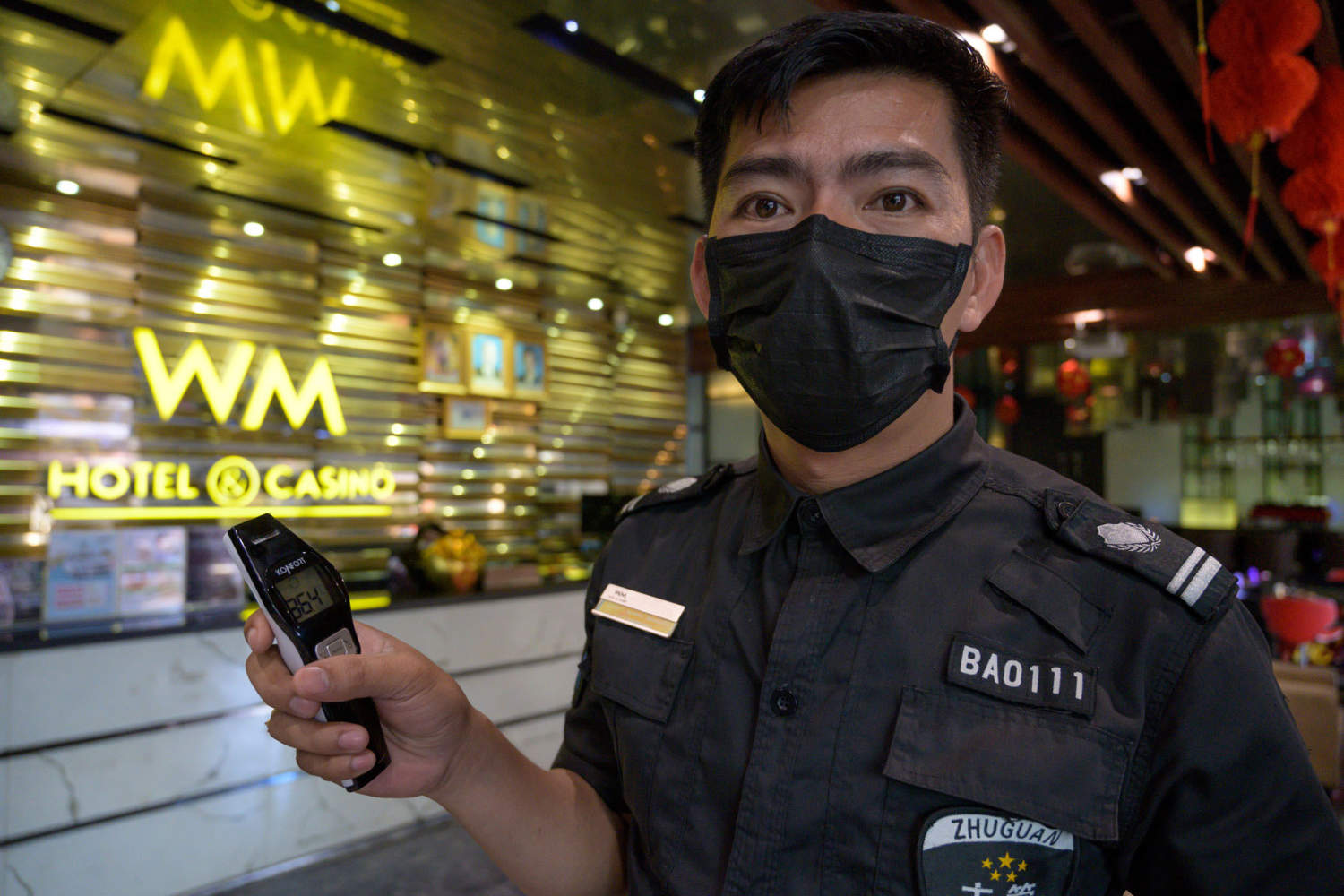 A staff member at the entrance of a Casino uses a digital thermometer to measure the temperature of visiting guests. Cambodia is trying to contain the spread of the corona virus and Sihanoukville is a very popular destination for tourists from China. The virus broke out in early January 2020 in the Chinese city of Wuhan. Sihanoukville, Cambodia. © Laurent Weyl/Panos Pictures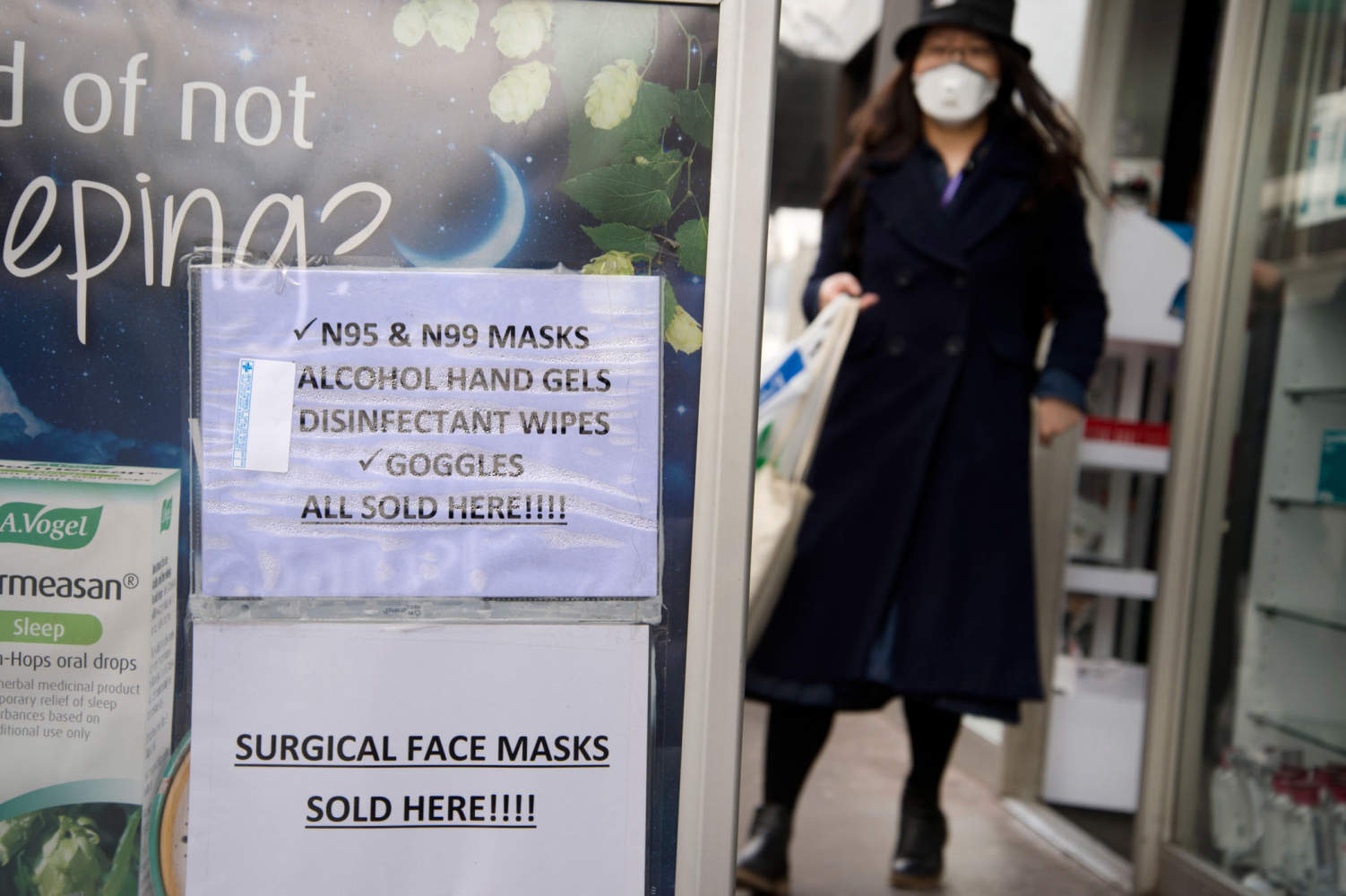 A notice on the door of a pharmacy on Tottenham Court Road in central London informs about the availability of face masks, hand gels, goggles and other items that are selling due to the corona virus outbreak. London, United Kingdom. © Jenny Matthews/Panos Pictures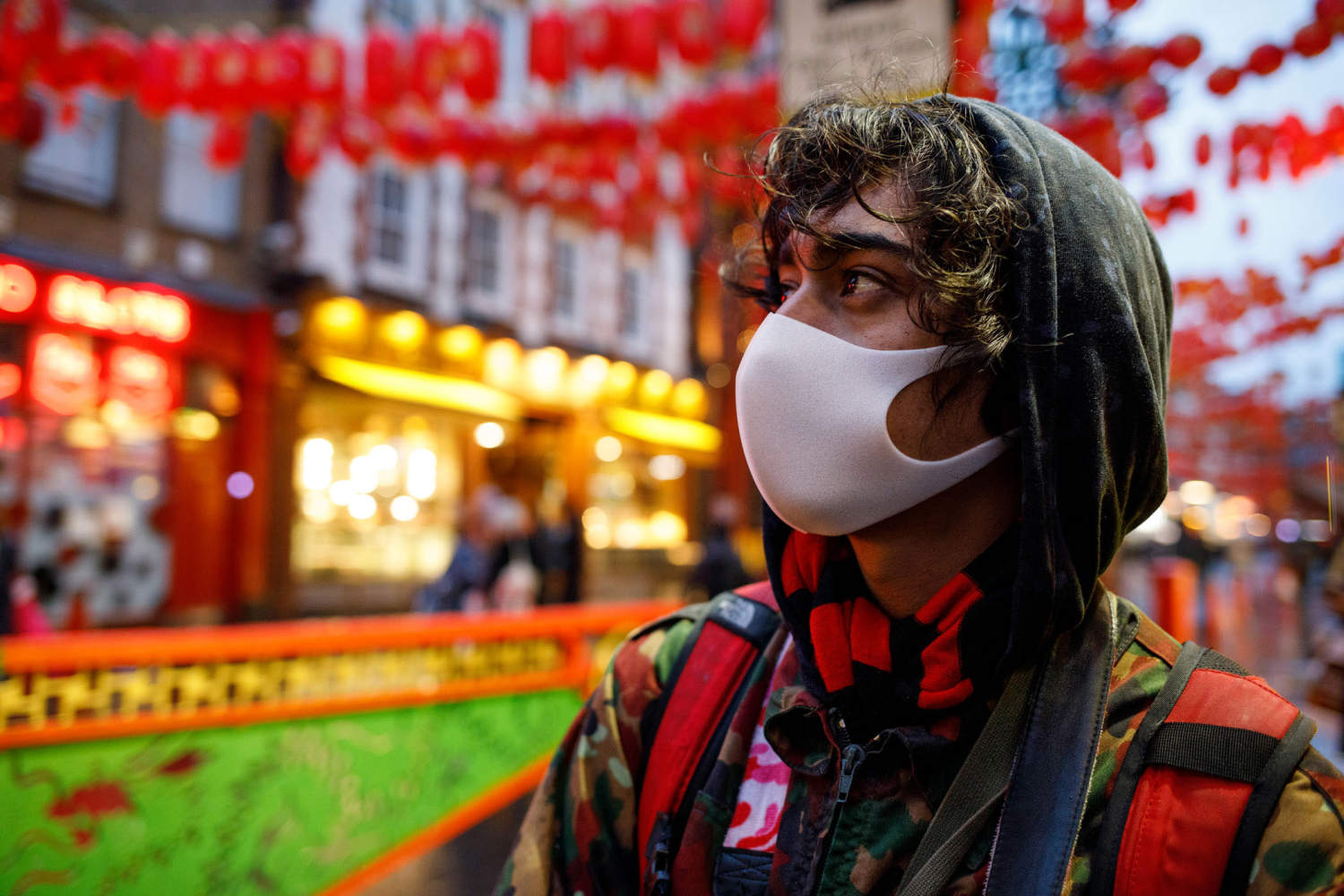 A man wearing a face mask while walking through Chinatown in central London. © Crispin Hughes/Panos Pictures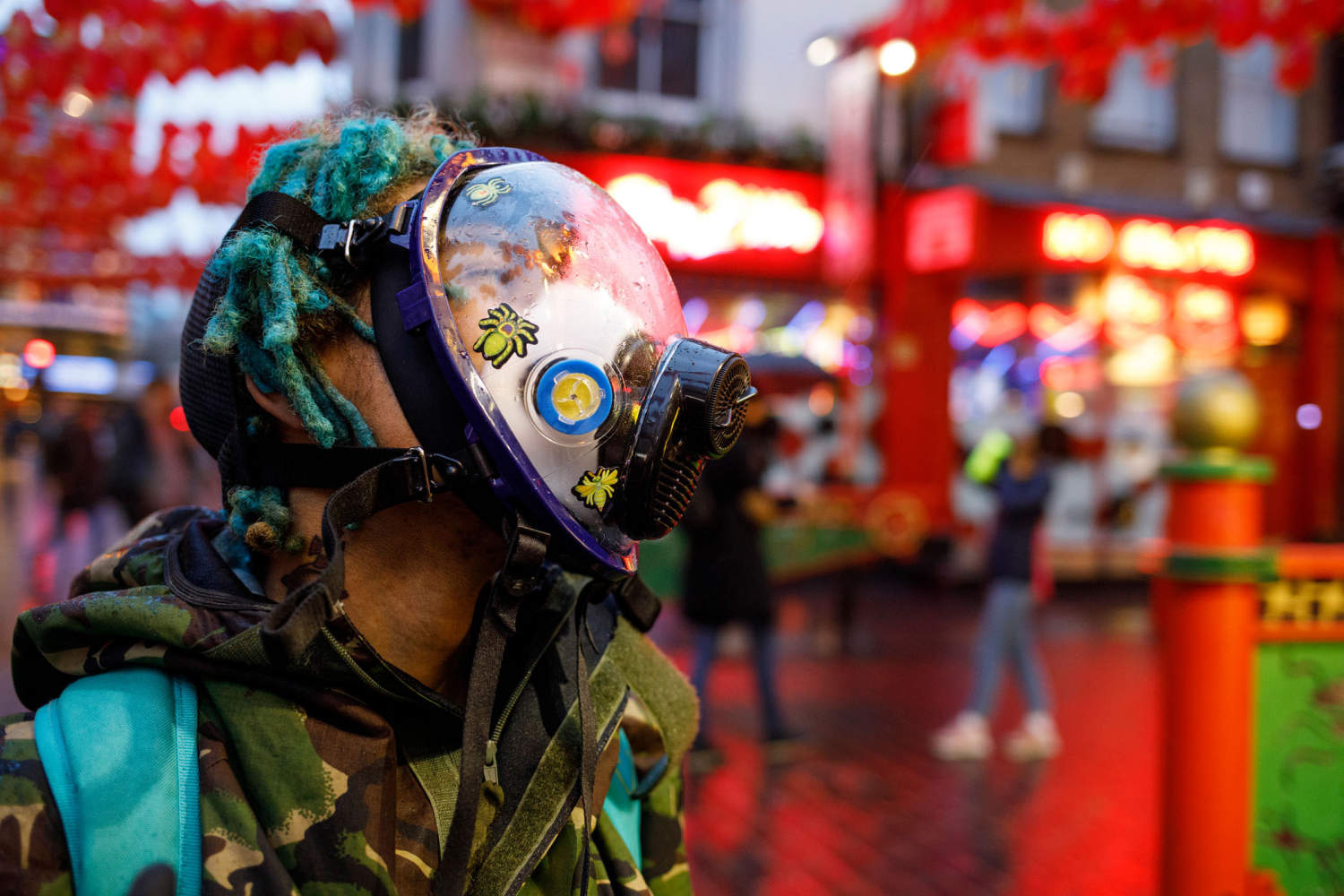 A man wearing a full face mask while walking through Chinatown in central London.© Crispin Hughes/Panos Pictures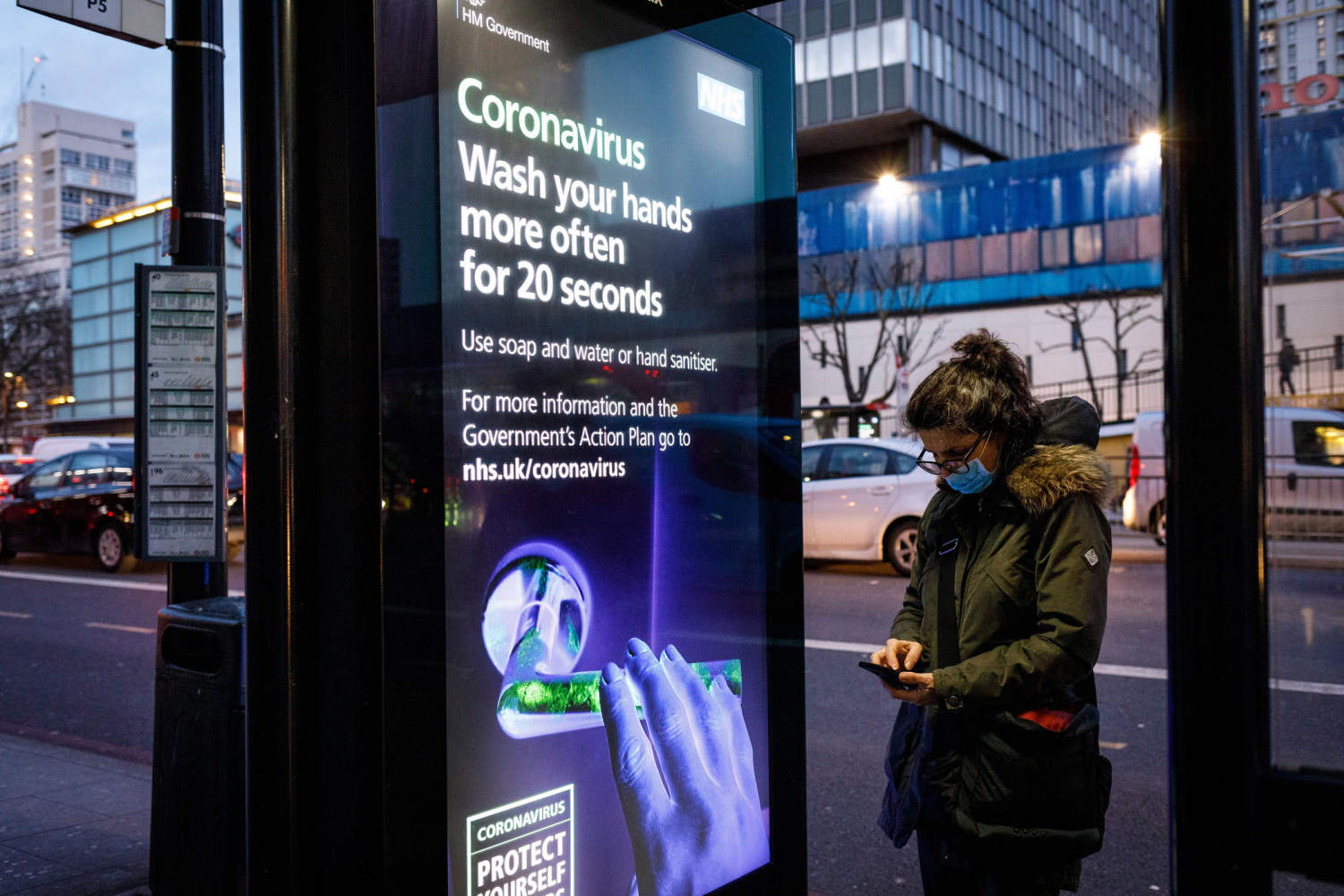 A woman wearing a face mask stands at a bus stop with an information poster concerning the corona virus outbreak in central London. © Crispin Hughes/Panos Pictures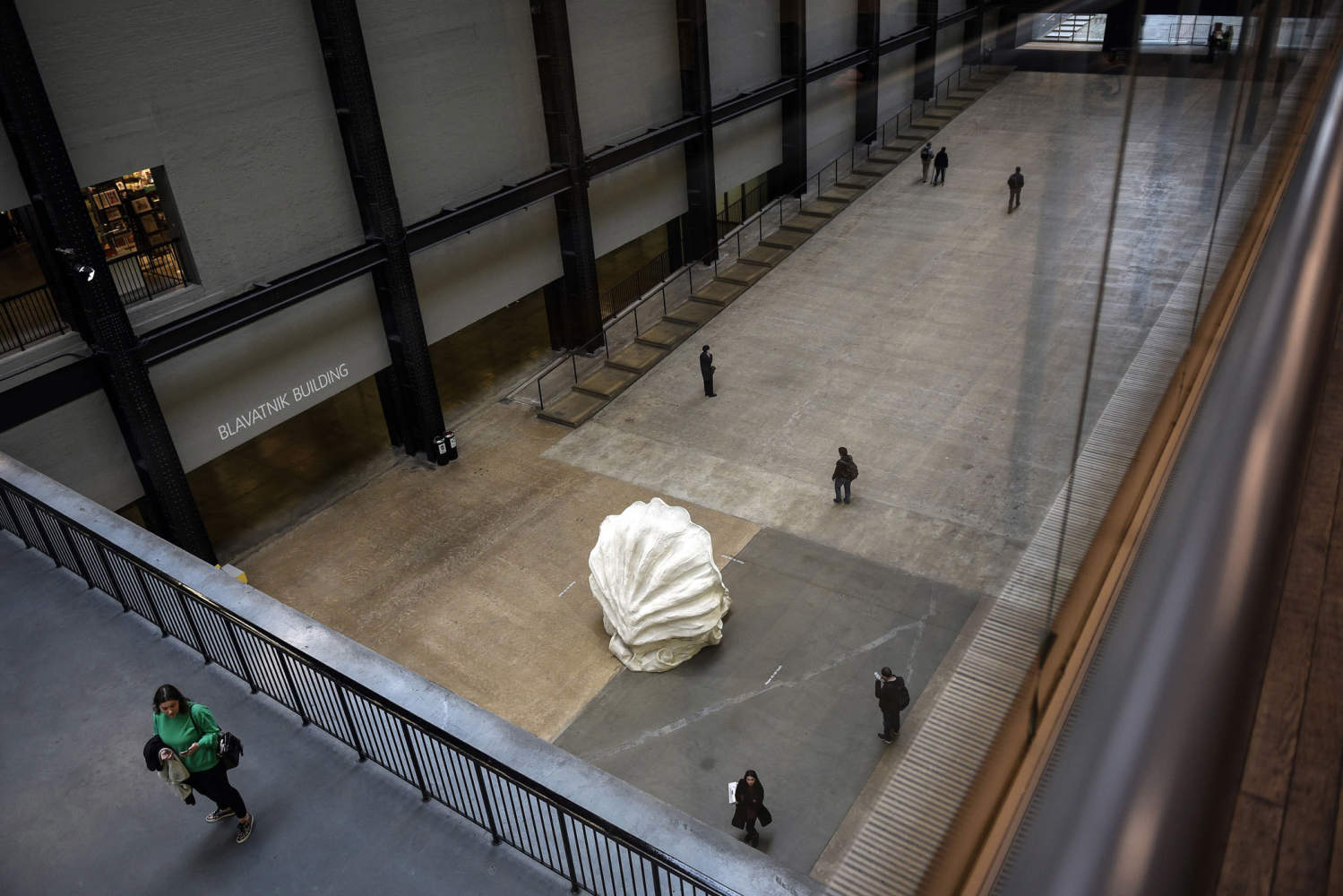 The final few visitors look around London's Tate Modern before the world famous museum closes until May 1st as the UK copes with the Coronavirus outbreak and the British government advised people to stay away from public gatherings and venue. London, UK. © Mary Turner/Panos Pictures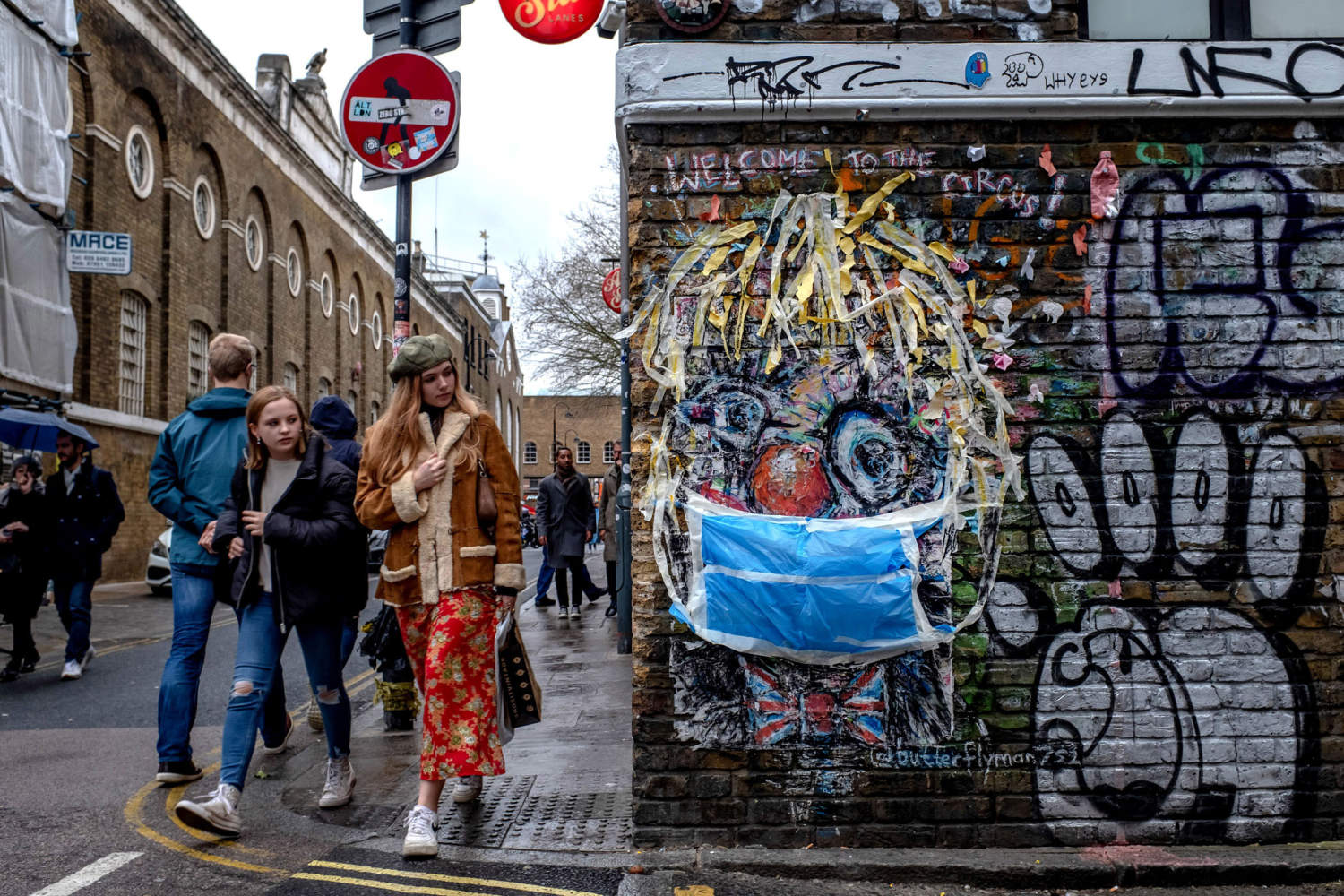 A face mask added on to a street art portrait in Brick Lane, London, UK. © Andrew Testa/Panos Pictures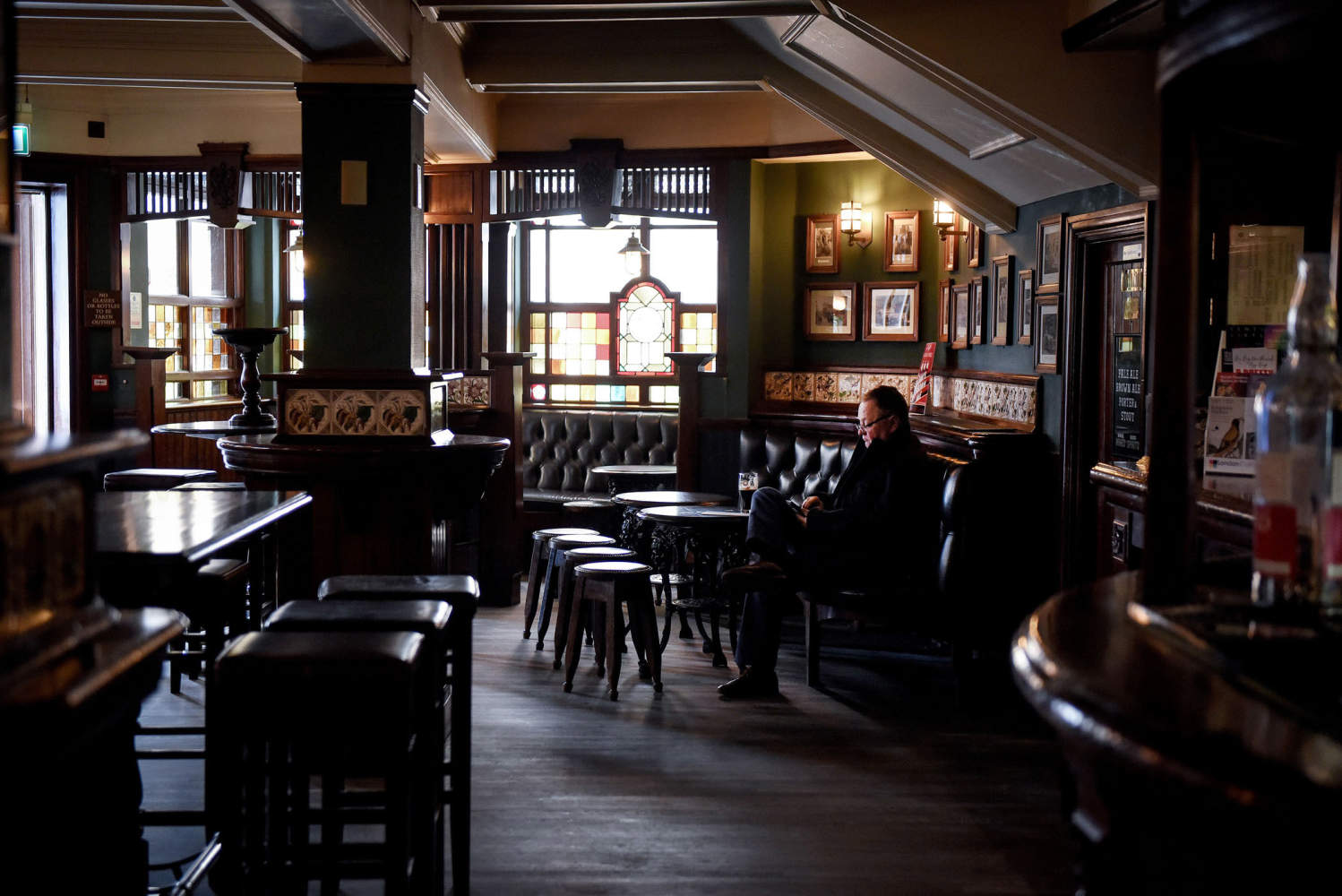 A lone man drinks a pint of beer in The Chandos, usually one of London's busiest pubs, located beside Trafalgar Square, after the British government advised people to stay away from public gatherings, pubs and venues, as the country reacts to the Coronovirus outbreak in the United Kingdom. © Mary Turner/Panos Pictures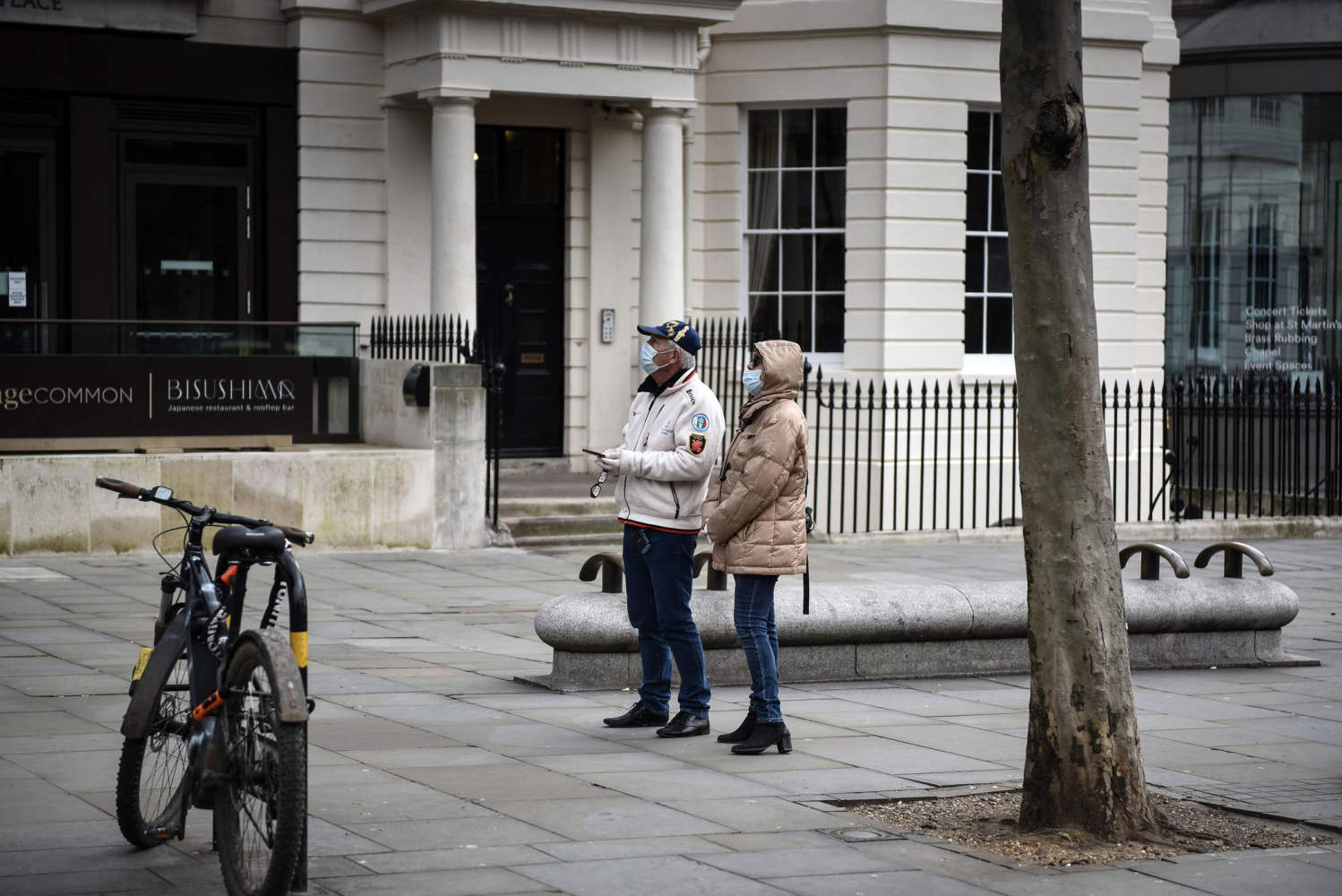 Two tourists stand in an almost deserted Charing Cross Road, after the British government advised people to stay away from public gatherings, pubs and restaurants, as the country reacts to the Coronovirus outbreak in the United Kingdom. © Mary Turner/Panos Pictures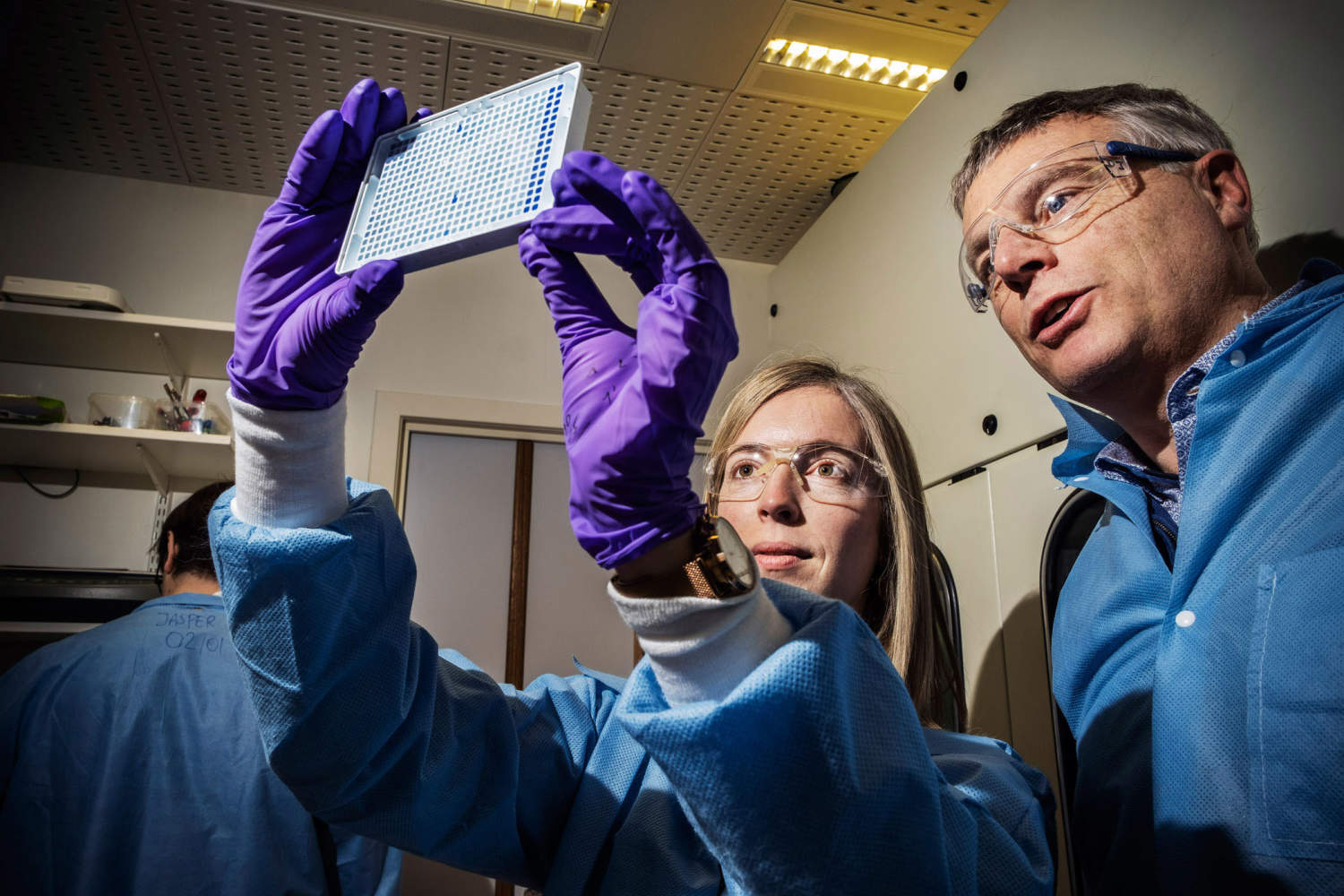 Professor Johan Neyts and one of his colleagues inspect a sample in their lab.
Professor Neyts and his team, working at the Rega Institute in Leuven have been working to find a vaccine for the deadly virus that broke out in the city of Wuhan in China in January 2020 and continues to spread. Leuven/Louvain, Belgium © Dieter Telemans/Panos Pictures